No. 1027:
Hat police Manglerud "think" on the false apostle and Hat "Pastor" Jan Aage Torp, and it calls for harassment even though Torp look at me as a reitgjerde patient!
Conflicted
Council
on 8 January
, I said
the following
to
Torp
.
We
can
talk about
all that I have
written
and
preached.
You could say
, in what you
have responded
and
we
can
try to change
the wording
and what you want
.
This
declined
Torp
shiny
!
Then there's nothing
more to do
, in my opinion
than
to
put everything
in God's hands
,
my conscience
is clean and good
!
Here
is
the
psychopath
we face
,
and
that
the police
stays with
,
then
we are facing a
psychopath
who
stays with
the police
!
And
Torp
wanted
me
two years
in
jail
+
much else,
that the police
hold
with such a person
,
the
witnesses
such
as degrees
against them
that this case
should never have been
on trial
except that
Torp
should have been
prosecuted
for
false accusations
against me
!
-------------------------------------------------------------------------------------------------------------------------
Trial now Thursday 17th September at. 09:30 in the saddle 427 Oslo District Court!
Hehe! Robber stories are many, but usually they are light to reveal if one has something between his ears and regular contact with the environment. And live with God, then definitely know a difference of what is of God and what is from the father of lies, Satan!
So also here. Torp has called me for the following: "If you wanted a" desire opponent ", then Jan Kåre Christensen" perfected ". Moreover writes Torp that I am stalker, totally unintelligent, a Nolde "hat blogger", idiot, demon, desire lies, vile blogs, outcasts who lack the mind of Christ, ordinary judgment and social intelligence. "+ More!
If I'm really a reitgjerde patient, how can he feel insulted? Selvføgelig builds entire case that this is false accusations directed against me, why?
This has Torp even said several times, he would have me removed from the web. Me and the Heavenly blog.
We had to meet conflicting advice and there I offered him to go through all that I have written and possibly change this. The answer was no, why? A psychopath will not have a little and meet half way, he should have everything and more!
No, all with police at Manglerud and Torp reeks of lies and hatred, poor people! Looking forward to trial, meet up and pray before, during and after the trial that Torp and police lies and sickening behavior must come to light for everyone!
Meet up when the Oslo City Court (CJ Hambros space 4 at the border) this Thursday the 17th of September at. 9:30 Sal: 427
This is Norway's history miscarriage of justice if I am being judged, and clean and happens kristendomdsforfølgelse!
If one has a Coke bottle and puts a Solo label, what is it? Still a Coke bottle. So also here, one can not call something a trial etc.
This is kristendomdsforfølgelse and false accusations directed against me!
Torp is so pompous and foolish that everything I have written and spoken about him. Is actually every word true, I will be judged for it?
Then I'll take them verdict with joy!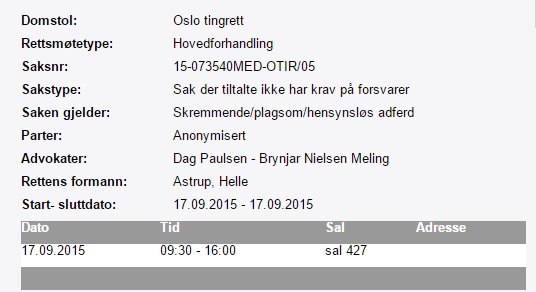 It is strange that Satan still playing on their old weapons rather than anything else, IS FEAR AND LIES!
When Jesus rose again so were the lies and fear, Satan played. They had to put out some false rumors that Jesus was not risen, but he was stolen by the disciples while the guards slept. In other words, a lye upstairs and a downstairs. Here it is the same again. I have not threatened or done something gærnt, and Torp has used strong verbal words than me in most things, but yet I have done nothing "criminal offense". Satan's lies is alive and well, he thinks!
Strange also with Torp, the first thing he said after he had come with his fictional review was that wanted me to spend two years in jail and he would get a conviction to go to Google with. Look no people that this is the psychopath who operates, so they must be stick stone blind!
Must he also received an Apostolic Center, his thoughts about themselves is so grandiose and narcissistic, that if one can not and are allowed to warn against Torp. So things can not get worse, although Anders Behring Breivik had not so grandiose and grandiosity even about themselves!
Even Jesus or Paul did not have this, but Torp has now got this. He who lives as an adulterer and fornicator into sin. The fact is that everything I have written and spoken here about Torp and Oslo Church, so was not the half of madness interpreted!
I have to laugh over the madness of police and Torp my upstairs at all, it's good to be human and be saved when an ability to ignore the madness and laugh at the whole thing is now my parole!
King Solomon says about the bride:
Ord. 31 25 Strength and dignity are her clothing, and she laughs at the time.