The wretched and mendacious website Søkelys.Com with Kjell Andersen from Kristiansand spreading lies, hate and disinformation constant!
I'm being constantly accused of the one and the other. But I neither can, Orcs or will answer all the lies, hatred and misinformation constantly being written about me on this site.
But some words I can write. Among other things, that when it comes to my struggle for marriage is ready, and I know what I'm doing. Here are some points:
1.) I focus solely on preachers and people in public office in among the Christians who are divorced and re-married as it is disqualified to participate in the church as ministers. They live by the word of God as adulterers, fornicators / adulteresses and sin.
2.) I think all believers who are re-married living in sin, but if some are referred to by name and others, then it is only public figures.
3.) No one who is re-married as unbelievers, although I do not think it's good. I believe the basis of the word of God should be made to the same responsibility as believers. In other words, everything that one does before coming to faith in Christ is under the blood.
Here are some article I have written about the lie full and shitty website Searchlight:
Here an article about it that I am being accused of the spotlight, not to be held responsible what one does for salvation. THE DO I DO BUT I AM CONVINCED THAT IT EN DO BEFORE AN IS SAVED IS NOT INVOLVED IN THE ACCOUNTS within its GOD! IT IS UNDER BLOOD, IT IS WHAT A MAKE FOR SALVATION INVOLVED IN THE ACCOUNTS within its GOD, NOT BEFORE SALVATION!
When I preach and teach on the basis of the word of God, so is my desire, and what I always try to convey. That's what font and font alone what it says!
Therefore the accuser or praises me, then go there on me, but on him behind the Word, it is God himself!
Picture of me and my wife, we are now approaching 30 years of cohabitation, it is unfortunately rarity been if even among believers to stay together for life? Tragic!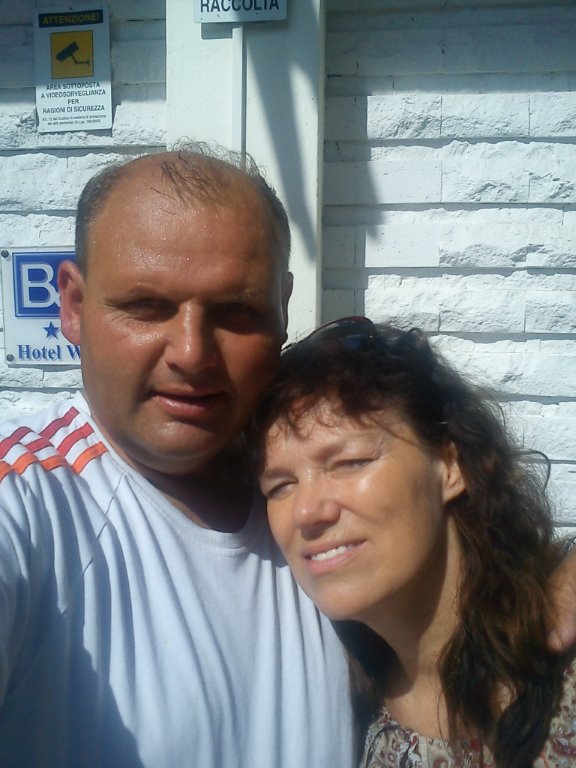 I ask: "The old life behind it - when it starts is brand new! This also applies to marriage and remarriage ?! ".
I see it so on the basis of New Testament thinking, understanding and learning. So everything is what one does in the old life - until one gets born again. It's gone forever literally! But from the day one receives Christ Jesus, then everything starts to "count"!
2 Cor. 5. 17 No, whoever is in Christ is a new creation. The old has gone, the new has come!
Is an unmarried, married one or more times as unsaved, then a dead, anyway. One dead in their sins and transgressions.
Efes. 2. 4 But God, who is rich in mercy, for his great love wherewith he loved us
with 5 made us alive with Christ even when we were dead in sins - by grace are ye saved - 6 and raised us up with him and seated us with him in the heavenly places in Christ Jesus,
We were dead before we were saved. After salvation, what are we then? We are living, "made us alive with Christ."
We are, in other words died unsaved, but living as saved. This is what the New Testament teaches and preaches us!
What do we learn here? In short, all people regardless of whether they make "good" or "bad" deeds not believers not "accountable" when they are dead.
How much can one expect of a dead man? Nothing, it's like living that one can expect anything of a person, not as dead. Then it is only believers who should be held accountable for their deeds within its God. All other people are dead in their sins and transgressions. This is of course much more to say something about, but we'll stop here regarding the difference between being a believer and not a believer.
Separating goes through faith in Jesus Christ as the Son of God, Savior and Lord!
That day one receives Jesus, a lit, vibrant and responsible for their lives within its God, and then he shall answer for everything one does, indeed, also a failure to do!
We must not lay stone burden to those who come to faith in Christ. But while not depriving them the responsibility it is to be a Jesus believer. The balance that this should be, do we really need. We can not expect anything of the world, but of the believers that they resemble more and more on Jesus, and that they go in his footsteps!
It is not so many think that the Gentiles to live as Christians 20% while the Christians will live 80% then it becomes 100%!
Evangelisenteret practicing the one this, that everything is permitted even after salvation about.
But then a really misunderstood, and not just Evangelisenteret. This spreads more and more that the church is becoming more and more like the world, soon there is no difference! Bad that it would go so, therefore repentance in its place. What has this short lesson told and what we have learned. Let's put up some points at the end:
1.) Everything before salvation is under the blood.
2.) What we do as believers, all we must and should be held accountable for (then to God, we have done something that unsaved we possibly respond to other by making up eg. Criminal deeds).
3.) We can be forgiven, but then we must repent.
4.) Unsaved people get forgiveness for all the day they accept Jesus.
5.) Christian people get forgiveness for everything if they repent and confess it as sin!
6.) All non-believers are forgiven everything the day they accept Christ - and a whole new life begins
7.) All believers will not automatically forgiven for their sins, they must also repent of our sins.
8.) Have a x number of marriages behind him in the world, everything is forgiven the day a accept Christ!
9.) As believers goods eg. marriage life, only death provides an opportunity to enter into a new marriage.
10.) The so-called innocent party does not exist in NT, this is just a demonic Lead maneuver to allow sin in the church!
When I read and hear what so-called Christian leaders and preachers convey their message then I think many times the following: "Are these really born again?".
Jesus talking to Nicodemus. There is a total difference to be born again and not born again. God's word speaks darkness to light, from the power of Satan and the living kingdom of God and have fellowship with Jesus, etc. Should we as believers preach the new birth or moralize nonbelievers? Morality and ethics biblical pattern is only after one has come to believe that it is relevant and biblically correct to admonish, instruct and encourage people to live in harmony with God and in accordance with scripture.
It is an understanding of things that are in my opinion not gospel. What I mean by that?
That how the world people act and behave. It has basically not we Christians something. World people are dead in their sins and transgressions. They are governed by the captain of the air forces of Satan. Should we expect any of these people? And we have these to live as Christians and not be so very immoral?
While Christian people it is allright with only they did not quite live like the world, just a little better? This is the gospel? Not in my opinion!
Here is an example of how morality and ethics do not apply to people of the world, but only for believers:
1 Cor. 5. 9 I wrote in my letter to you that you should not have anything to do with people who live in adultery. 10 I did not mean everyone in this world who commit adultery or are greedy, or robbers and idolaters. Then you had to go out of the world. 11 What I meant what I wrote was that you should not associate with one called brother, and who still live in adultery or is greedy, or is an idolater, spotter, drunkard or robber. Such shall not eat with. 12 What have I to do with judging outsiders? Is it not those inside, you should judge? 13 Those who are outside, God will judge. Get then the evil away from you!
Note that we should not judge the world, which the early Christians were "known" for! But today we moraliserer world but ignoring sin in the church, which disaster and unbiblical!
Acts 19. 35 city recorder managed to get peace in the crowd and said: "Efesere know not all people that city of the Ephesians is a worshiper of the great Artemis and the stone that came down from heaven? 36 This can not deny, and therefore you should now be quiet and not do anything rash. 37 For you have brought these men here, who are neither temple robbers or reviled our goddess.
The first Christians "touched" not the world's immorality and idolatry:
"These men, who are neither temple robbers or reviled our goddess."
The same as the apostle Paul: "What have I to do with judging outsiders?".
It is only those who live as believers, Christians we should judge and judge, not the world.
This is the Bible's clear teaching, therefore we preach so clear. Only sin that I have gone public sharp facilitated with is immoral and unbiblical practice among preachers and those who have a learning / Pastoral responsibility. Therefore also the tremendous resistance against me, Smyrna Oslo and the Heavenly blog.
We are in a spiritual battle, where the resistance that has arisen, and completely safe also going to rise up against us is because we are a like red rag in the face of Satan. Who else who preaches like me, Smyrna Oslo and the Heavenly blog? It is unfortunately only a few and they are unfortunately not more, but less!
How to win victory in the spiritual battle? Here there is much to say, but bring to end my commentaries from Ephesians 6 on the Spiritual battle we stand.
My commentaries Ephesians 6 10 Finally, be strong in the Lord, in his mighty power!
So what Paul skips from the human and natural part of the spiritual. But all this goes together. God's Word encourages us to be strong and be overcome. There we are by being obedient to God org his words and put on his mighty power. Even in the Old Testament was the powerful promises it to be obedient as we find among others 5th Genesis 28, how much more in the new covenant!
11 Put on the whole armor of God, that ye may stand against the devil's wiles.
Here we put on God's armor. What it is and includes coming in the next verses. We should not just put on some parts of the armor, but the whole armor. But there are so many believers who never comes out or going out in the spiritual battle that this is something they fail completely to relate to. It is only when one has been in fights that realize how important and vital this is. Been to struggle and suffer defeat, as will a do everything you can to not suffer defeat in the next fight!
12 For we have not a fight against flesh and blood, but against principalities and powers, against the rulers of this darkness, against spiritual wickedness in heavenly places.
The real opponents are demons who are under the leadership of the Devil. There are evil spirits of different orders of magnitude and positions. There are demonic world rulers who operate in this darkness that the world finds itself in. It is a battle against "spiritual wickedness in the heavenly." That they belong spiritual world, and hence they are eerily dangerous and insidious. Satan acts in many different ways, both as an angel of light (2 Corinthians 11:14) and as a roaring lion (1 Peter 5.8). He is most dangerous when he appears as an angel of light, disguised as a messenger of the Gospel.
God's word says about the last days: "Now the Spirit speaketh expressly, that in the latter times some shall depart from the faith, giving heed to seducing spirits and doctrines of demons. It happens by hypocrisy of false teachers, who are branded in their own conscience "1 Tim 4.1 to 2. Wrong doctrine has consequently its origin in evil spirits and heresies are affected by, or under the influence of evil spirits. Therefore we can say that it is not a battle against humans in itself, but the devil and evil spirits using or abusing people in their struggle against God and Christians.
God's word does not deny that we have a sinister opponent with horrific evil spirits will do everything possible to deceive God's children. But we know that Jesus disarmed the evil spirits when he triumphed at Calvary (Colossians 2:15). Although the devil and his spiritual army is defeated, so is not the judgment executed yet. Therefore, they have yet a time to seduce and tempt us humans, but the judgment of them are already pronounced.
But there are also various spirits we face. We can divide them.
1.) The powers and authorities.
2.) The world rulers of this darkness.
3.) Evil spirits in high places.
Here we meet three different areas of enemy armies that will fight and disturb us. Two of the secret to victory is to know ourselves and our own clout. And know the enemy and his clout.
1.) Here we meet people "Face to Face". Why will not the media and everything else write and relate factual and objective to us believers and objectively? Satan is behind.
2.) It is a Spirit that the Bible describes as Satan Spirit Antikrist`s, the spirit which is in the children of disobedience works and reigns in this world. Contrasting with the Spirit of God can we say.
3.) Here are the demons and fallen angels. Demons are like "small" men on 1 \ 2 m if one were to see them visible to the eye. The fallen angels are above the demons again and may even multiply, we read in Genesis 1 6. They assumption respectively helped to rule this world before together with Lucifer. We read several places in scripture that demons infiltrate and occupied people. While the fallen angels went so far as to have intercourse with women and had children with them, they had opportunities to propagate. But they are spiritual beings that can be both visible and invisible to the eye sacrifice!
1. Genesis 6 4 At the time and since, too, there were giants on the earth. For god's sons lived with the daughters of men and had children with them. It was the mighty men of old, renown.
Human girls give birth fights, they are Gude sons have other genetic conditions that are stronger and different than people after the fall.
King David exterminated those who survived the flood, and today they are spiritual people and not flesh and blood,
2. Samuel 21. 18 Since it came to new conflict with the Philistines at Gob. Where felled Hushathite of pop!-Seed a man named Saf and was a descendant of Rafa. 19 Once again, it came to battle with the Philistines at Gob. Elhanan son of Jaare-Orgim from Bethlehem, killed Goliath of Gath, who had a spear shaft as thick as a weaver's beam. 20 Since it came to blows at Gath. There was a huge man who had six fingers on each hand and six toes on each foot, twenty-four fingers and toes in all. He also heard Rafa-lineage. 21 The man taunted Israel. But Jonathan, the son of David's brother Shimeah, killed him. 22 These four belonged to Rafa family in Gath. David and his men killed them.
23. 21 He also cast a huge Egyptian. Egyptian had a spear in his hand, but Benaiah went against him with a rod, snatched the spear out of the Egyptian's hand and killed him with his own spear.
It is only at the end of the great tribulation that these spiritual sizes will reveal his true for all people. Until then we are their biggest rivals and they are our hardest and biggest opponents. But Jeus have defeated them on the cross once and for all. It is good and reassuring to know.
Will also remember that Satan is very concerned about this so he put out lies that are not true about this. See here: According to ZetaTalk had David's great-grandmother was raped or abused as sex slave by a Anunnaki-soldier, and had then given birth to a hybrid (David grandmother). It was thus Anunnaki blood in David veins, and as a child he had by his mother learned to hate giants. This is just a giant hoax!
This is from my commentaries Colossians Dispenser Letter 2. 15 He disarmed the principalities and powers, and set them up to ridicule when he triumphed over them in it.
Satan and demons had has on our lives. We were in darkness and thrived in the dark and was Satan property. But they were disarmed and moved forward as liars, prosecutors and without reel power. Satan and demon had been ravaged long and thorough enough. But not anymore, now they were defeated. The victory is complete. God the Father is satisfied through Jesus' work at Calvary. We sins are forgiven and God can take us to the grace and adopt us into his family as his own children. And Satan and demon has no reel power longer, they are living on borrowed time! Jesus resetting the law for us believers. It does not apply longer for us, just grace in Christ Jesus.
13 Take therefore the whole armor of God, that ye may resist in the evil day and remain standing after having overcome everything.
Therefore encourages Apostle believers to take the armor of God so that they can withstand in the evil day (v. 13). The days are different. Some days we look back with joy, others we will like to forget. The days to come, we know nothing about, but experience shows that someone will be good and some evil. We should note that the Devil is a strategist and usually takes a day when we feel everything is hard and heavy, when he comes by his cunning and temptations to try to cause us to fall.
Particularly bad days for the people of God is persecution times. In our time, there are many in the world who are persecuted for their Christian faith, and the world is experiencing more martyrs than any time in history. Pursuing Reading Time will culminate at the Antichrist come and the great tribulation. Therefore it is important that we take the whole armor of God, that we may be standing.
14 Stand therefore ready with truth that belt around his waist and with righteousness as breastplate,
The apostle uses the Roman soldier's armor as a picture of the struggle we are in. It also appears that he uses the same order as the soldier used to take on this armor.
"Stand therefore, having your loins girt with truth about life and be wearing the breastplate of righteousness" (v. 14). First mentioned belt and breastplate. Belt should keep those long clothes up so that one was ready both to move and prepare for battle. Breastplate would cover and protect the vital organs such as the heart and lungs. When it speaks of "truth belt", it means that one must be truthful and sincere in his behavior, both in word and deed. A Christian've accepted the truth, Jesus, therefore he must also in his life reflect this truth by being truthful and honest in all his ways. Only then is he able to go in the game. But he must also be wearing "righteousness". There must be no question of the objective justice, ie the imputed righteousness of God imputes a sinner who take refuge in Jesus Christ. It shall be a defense against conscience and Satan's accusations. Therefore it is important that a Christian, which is imputed righteousness of Jesus Christ, living as fair in all of life's situations and conditions and likewise live a truthful and honest life among all people. Truth belt is to rely on the truth and always let it rule in life and learning.
Joh.e. 8. 32 And ye shall know the truth, and the truth shall make you free. "36 If the Son sets you free, ye shall be free indeed. Righteousness is that life and teachings match. It is when we live as we preach that we are strong.
1 Cor. 9. 23 And this I do for the gospel's sake, so I can even take part in it.
24 Do you not know that those who are in a race athlete, everyone runs, but only one wins the prize. So run your race you win it! 25 An athlete must deny everything. He does it to win a wreath that withers, we win a wreath that never withers. 26 I run therefore not without having a goal, and I'm not like a boxer who beats in midair. 27 No, I'm fighting against myself and forces the body to obey, lest I have preached to others, I myself should be rejected.
15 and have as shoes on your feet with the preparation of the gospel of peace.
Further mentions apostle footwear and says, "Have as shoes on your feet with the preparation of the gospel of peace" (v. 5). The footwear is important in the game. The Roman soldier had girded feet with sandals or shoes. These were often studded with nails that he would get a good grip. Here comparable footwear with the gospel of peace. Gospel brings peace with God and peace of heart in a good conscience. This peace is again a fruit of righteousness of faith. Therefore, the Christian should always be prepared to preach the gospel wherever they came. The famous ekseget Bengel says: "The Christian Soldier feet are fixed by the gospel so he can not be upset away from their place or shy."
Rom. 5. 1. When we have been justified through faith, we have peace with God through our Lord Jesus Christ.
16 Grip above all the shield of faith; with it you can quench all the fiery darts.
The shield was the large, oblong shield that covered almost the whole person. It was like wood, but with a thick coating of leather. Fire arrows were enmeshed with a combustible substance that high or tow. They were dipped in pitch or tar to illuminate when they were imposed. It was however difficult to get ignited lærtrekket on the shield. When arrows hit this, they bounced off and fell to the ground and fell asleep. Similarly, the belief protect a Christian against the Devil's temptations to apostasy. It is faith in Jesus, Son of God, who protects and protects children of God against the Devil flaming arrows. The same thought, we read in the Apostle Peter where he urges Christians to resist the devil, steadfast in the faith (1 Peter 5.9). What then is the fiery darts? It can be words, books, magazines, movies, pornography, images, ideas, thoughts, (lusts) who attack our heart purity. Who has not noticed that suddenly pops up an image or a thought, as it is difficult to get away. Some are bothered by the sins and failures of youth. Although one has received the remission of sins, dolls painful thoughts and images up again. But they must be rejected so that they do not get rooms in heart. But how? Go to Jesus with them and put the matter to him. He is tried in everything, but without sin. In such situations, it may also be useful to seek out a counselor or another Christian one has confidence.
The Apostle James writes about temptation and says that God tempts no and continues: "But every man is tempted, dragged and enticed by his own desire. When lust has conceived, it gives birth to sin. But when sin is full-grown, brings forth death "Jak 1.14 to 15. It is the devil who tempts and it can lead to falls for a Christian if one is not on duty. Therefore let us live in communion with our Savior and Lord, Jesus Christ, will be revealed temptations of the devil and refuted.
17 Take the helmet of salvation and the sword of the Spirit, which is God's word.
The soldier takes the helmet on his head, and then he grabs the sword with his right hand. The helmet protects the head which is the grandest limb on the body. The fact that the Christians have received salvation and live in salvation, protects the person against all hazards. Awareness of salvation, both that one is saved here and now and the eternal salvation, is a protection against the Devil and his spiritual army. When a Christian is in Jesus Christ, can never Devil harm the believer as long as he remains in communion with Jesus, but he may be tempted to apostasy. Salvation helmet speaks about having victory in thought life, do not give the devil room we read in the 4th chapter. 2 Cor. 10. 3 We live as human beings, but we are not fighting like humans do. 4 For our weapons are not from people, but they have their power from God and can strongholds gravel. We tear down imaginations 5 and everything big and proud that rise up against the knowledge of God, and we take every thought captive to the obedience of Christ. 6 We stand ready to punish all disobedience, once you have reached full obedience.
Finally mentioned sword that is an assault weapon. There is no carnal weapons, but spiritual, which the Holy Spirit gives a Christian. It is God's word. Writer of Hebrews says about the word of God effect: "For the word of God is living and active and sharper than any two-edged sword. Piercing even to the dividing asunder of soul and spirit, joints and marrow; it judges the thoughts and intents "Hebrews 4:12. God's word is living and active for God's Holy Spirit is the word, and it provides the basis themselves the Holy Spirit when it is preached. God's word is the strongest assault weapon God's people against the Devil and his spiritual army. Therefore it is important to hear the word of God, read it, learn it (preferably by heart), ponder it, talk about it, pray over it. In other words, take care of it. Word is the safest and best weapon to keep Satan away and drive him to flee because he can not stand the word of God.
It was also what Jesus used when he was attacked and tempted by the devil in the desert (Matthew 4.1 to 11). In Revelation it says about those who had triumphed over the accuser: "They overcame him by virtue of blood of the Lamb and by the word of their testimony" Rev. 12.11.
Therefore word our help in trouble, and comfort in life and death. The Bible says: "Blessed are those who hear the word of God and obey it" Luke 11.28. They are blessed both in time and in eternity.
18 Do this in prayer, and put it all to God! Pray at all times in the Spirit! Watch and keep on praying for all the saints,
Taking on the armor of God and fight the spiritual battle can be a struggle and hard work. But Jesus has called us to a sofa toilers, but to work in his vineyard, as members of his body, as volunteers and active Christians in the congregation and church. Much has the character of work. So it is with prayer. It is not intended that the prayer should be a pastime only when you have nothing to do. It pays to make time for prayer, but prayer is also resting. Jesus says to his weary soldiers for the gospel and the cause of peace, "Come unto me, all ye that labor and are heavy laden, and I will give you rest." Matt.11,28.
19 also for me. Pray that the right words must be given to me when I speak, so I can boldly proclaim the mystery of the gospel,
Paul wanted to preach in a right way the gospel secrets. Here there is a lot. To name a few truths here it is Jesus' death on Calvary defeated Satan. But this is only a beginning for all of God's secrets.
20 which I am an ambassador for here in prison. Pray that through the gospel must have courage to speak as I should.
Now he sat in prison, this was part of God's plan. When he fik time and opportunity to write the letters we have of his hand today. Without his "break" had we not had enough all the good letters. The fact that God allows things to happen, even the negative is usually a part of his large and significant plan and purpose.